"Choose a job you love and you'll never have to work a day in your life."
At Central America Vacation we love living, traveling, and working in Central America and are eager to share this incredibly diverse and beautiful part of the world with you. We are passionate about your vacation experience and want to make sure your time with us is one of the best trips of your life.
How we got here…
Our travel agency was founded in 2013, but it's safe to say the seed was planted a decade earlier. Both Theresa and I share different, but similar, stories of how we arrived and fell in love with Central America. I grew up in Wisconsin before studying Spanish at the University of Minnesota while Theresa is born and raised in Michigan and studied Finance and International Business at Grand Valley State University. In college we both decided to do a semester abroad to immerse ourselves into local culture and commit to learning Spanish, and we happened to choose schools in San Jose, Costa Rica. Living with local host families for four months we immediately fell in love with the local culture, gallo pinto breakfasts, friendly Ticos, and of course being from the Midwest – the warm weather!
That semester soon ended but the travel bug had already bitten us, hard. After graduating I did a year in the corporate world before heading back to Costa Rica full time in 2005 while Theresa graduated and then volunteered in the Peace Corps before returning in 2009. We soon met working at a Costa Rican travel agency and became friends, then after a couple years later we decided that dating a fellow Midwesterner sounded like a good idea – turns out we were right!
Where we're going….
After traveling much of Central America together we decided to start our own travel agency to be able to offer vacations throughout the entire region. Being avid divers, anglers, yogis, hikers, foodies, and general adventure seekers we set out to be the company that we would love to travel with. There is so much to see and do here and these small countries are so diverse we knew that our guests would love traveling here as much as we do.
With a combined 20 years of experience living in and booking vacations to Central America we've seen, done and experienced a lot. We have personally inspected or stayed at every accommodation we represent, we've tried every day tour we offer, and we've been everywhere (many places too many times to count!). We've helped guests find forgotten cell phones and passports, taken calls on national holidays and Sundaymornings, assisted with flight delays, traffic accidents, and even volcanic eruptions that cancelled flights for days. We've helped guests plan surprise engagements, destination weddings, unforgettable honeymoons, family getaways, corporate incentives, father/son fishing trips and even helped a few buy their dream property and move down here! With all this experience we know that the it's the little things that make the big things happen and we have the commitment to make your vacation with us be one you remember for a long time.
We love being a part of the travel industry, meeting new people every week, and helping guests plan their vacation of a lifetime. We enjoy a 'laid back professionalism' here so while emails will be responded to promptly, phone etiquette will be stellar, and service will be first rate we may be wearing shorts and sandals while we do it. We are also passionate about conservation, sustainability, and giving back to the countries and local communities that support and survive on tourism. To help protect this beautiful region and it's natural resources we donate a portion of every vacation to the World Wildlife Foundation or The Billfish Foundation. If you are interested we'd love to share how you can help bring donations and supplies to local communities on your next vacation to support the efforts of Pack for a Purpose. The only thing that surpasses our expertise in booking travel to Central America is our passion for it, and we can't wait you help you experience it for yourself.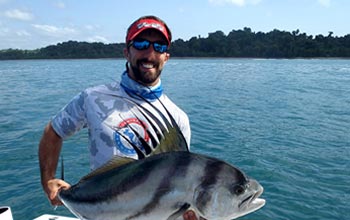 Chris Atkins
Owner / Founder
I was born in Pittsburgh, PA and grew up in Kohler, Wisconsin. I first came to Costa Rica in 2003, moved here full time in 2005 and opened this travel agency in 2013. I'm the fishing fanatic here so I manage the Central America Fishing side of our company and personally look after all our fishing guests. I've traveled to Australia, Africa, Asia, Europe, South America and the Middle East, but Central America is still my favorite region of the world. If I'm not working, fishing, or traveling you can probably find me playing with my chocolate lab, Hector, or watching my beloved Steelers, Penguins, or Pirates!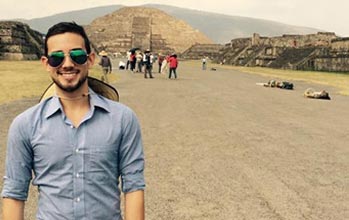 Alejandro Monge
Operations Manager
I was born and raised in San José, Costa Rica. Always having a passion for travel and the tourism industry, I went to school for Hospitality Management and Marketing & Tourism Operations. My career in guest services started at Disney World in Orlando and includes luxury travel agencies in Costa Rica and Panama. I've traveled all over Central America, Peru, Mexico, England and the US and am currently working on my MBA in Business Development & Logistics. I love going to the beach, cheeseburgers, cooking and swimming.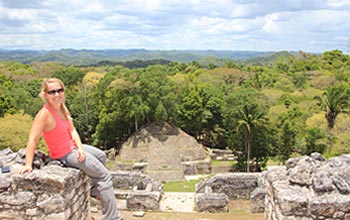 Theresa Atkins
Travel Specialist
I am proudly from the beautiful state of Michigan and grew up just outside of Ann Arbor. My second home in Central America has allowed me to play with the Costa Rica Women's National softball team in Guatemala, volunteer with the Peace Corps in Honduras, climb Mayan Ruins in three countries, dive the Mesoamerican Reef in Belize, shop local markets in Nicaragua, and hike the highest peaks in both Panama and Costa Rica. When I'm not working or traveling, I enjoy photography, yoga, volleyball, horseback riding, trying new cuisine, and virtually anything outdoors.